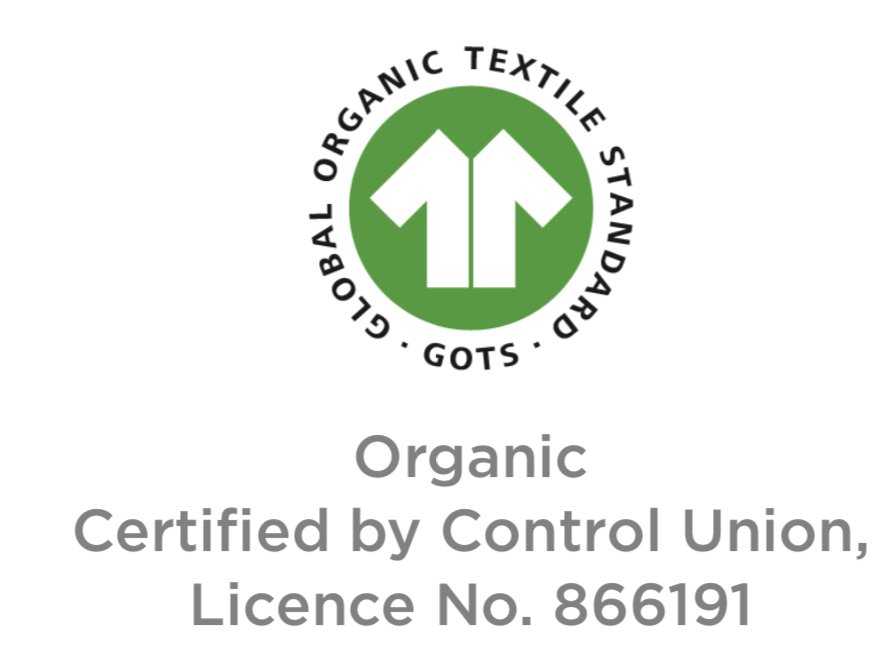 Pop My Way takes responsibility for the environment and for our children, which means taking organic production seriously. All our garments are produced in GOTS certified factories. This is crucial for the environment and crucial for our children and their future.
We also take social responsibility seriously, which means ensuring good working conditions in the factories we use, ensuring a proper wage for the workers and ensuring a zero child labour policy.
The Global Organic Textile Standard (GOTS) is recognised as the world's leading processing standard for textiles made from organic fibres. It defines high-level environmental criteria along the entire organic textiles supply chain and requires compliance with social criteria as well.
Only textile products that contain a minimum of 70% organic fibres can become GOTS certified. All chemical inputs such as dyes and auxiliaries used must meet certain environmental and toxicological criteria. A functional waste water treatment plant is mandatory for any wet-processing unit involved and all processors must comply with minimum social criteria.
The aim of the GOTS standard is to define world-wide recognised requirements that ensure organic status of textiles, from harvesting of the raw materials, through environmentally and socially responsible manufacturing up to labelling in order to provide a credible assurance to the end consumer.
Under GOTS, textile processors and manufacturers are able to export their organic fabrics and garments with one certification accepted in all major markets.
It is mandatory for the following GOTS' social responsibility criteria to be complied with:
Prohibition of forced labour

Prohibition of Child Labour

Prohibition of Harassment or abuse

Proper wages and compensation for work/overtime

Hours of work are limited to 8 hours per day

Health and Safety guidelines

Freedom of Association and membership of unions
For more information about GOTS, click here